Bios Password for Dell Showing:
System Disable + 7 Characters Service Tag
Asking to Type: The Current Password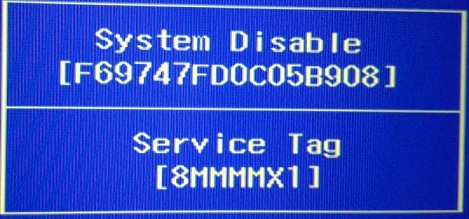 If you have a Dell Vostro 2521 7007 Laptop Showing: ( System Disable + 7 chars Service Tag ) Asking for current Password, You can buy your password here, so enter your Dell 16 chars Code Displayed on your laptop screen + Service Tag and hit buy now,

Dear Customers all Bios or Hard drive passwords will be sent by email within 5 minutes or the most it takes is 2 hours, Password will Work 100% or Your Money back!
---
Services are Aimed to Offer:
Dell System Disable Bios Password, Dell Current Password, Dell Bios Password, Dell Hard Drive Password,
---
Additional Laptop Supported Models we have already unlocked:
Inspiron 3043, Inspiron 3138, Inspiron 3147, Inspiron 3148, Inspiron 3521, Inspiron 3531, Inspiron 3537, Inspiron 3721, Inspiron 3737, nspiron 15 5565,, Inspiron 15R 5520, Inspiron 15R 5521, Inspiron 15R 5537, Inspiron 15R SE 7520, Inspiron 17R 5737, Inspiron 17R 5721, Inspiron M531R 5535, Inspiron M731R 5735, Inspiron 5542, Inspiron 5545, Inspiron 5547, Inspiron 5548, Inspiron 5551, Inspiron 5447, Inspiron 7348, Inspiron 7347, Inspiron 7352, Inspiron 7558,XPS 12 9Q23, XPS 15 L521X, XPS 14Z L412Z, XPS 14 L421X, Dell Alienware M11x R2, Vostro 2521 7007, Alienware M11x, Alienware M14x, Alienware M14x R2, Alienware M14x, Alienware M18x R2, Alienware 18, Alienware M17x R3, Alienware M17x R4, Alienware 17, Dell Vostro 560, Vostro 3531, Vostro 7347, Vostro 15 3537, Vostro 15 3531, Vostro 3721, vostro 2521 7007, Vostro 15 3521, Dell Latitude 3540, Dell Studio Studio XPS 1647, Dell OptiPlex: Optiplex GX1,
Not all models are listed here.
---
How to Apply the Dell Vostro 2521 7007 Bios Master Password after you received it from us
Using an External USB Keyboard, ( Must be Qwerty American Layout )
Make sure num lock is turned on, caps lock must be off
Type the password and Press Enter.

---
How to remove dell Vostro 2521 7007 bios password & unlock Setup

You can disable the Dell Vostro 2521 7007 password within bios setup.
Restart the laptop pressing F2 Every second,
Go to security
Then passwords
Go to system or administrator password
Them change or disable the password
There will be 3 fields
Enter the master password we sold you in the first field
And leave the rest blank !
Hit F10 to save settings and exit, if performed right, you laptop should be unlocked and will not ask for password.
---
Disclaimer:
Please Note: We like to think that you are unlocking your own Dell Vostro 2521 7007 laptop and that you know how many passwords are set,
Know that Bios Password is used to unlock the motherboard, and hard drive password unlock only hard drives,
Bios & HDD Passwords Are Sold Separately and windows password removal program is also available.
---
Keywords:
Dell Vostro 2521 7007 bios password, Dell Vostro 2521 7007 system disable bios password, Dell Vostro 2521 7007 current password, Dell Vostro 2521 7007 master Password
---
Customers who bought Dell Vostro 2521 7007 Bios Password, Also bought:
Dell Vostro 2521 7007 HDD Password,
If you need it, click here