How it works?
turn on your locked Laptop, take notes of the locked code and messages given, if there is no code shown on screen,
Enter three wrong passwords, and some code will be displayed, again take notes of the code and message given and go to the passwords sections below according to your Laptop or Notebook model.

All Bios & HDD Password will be sent by email in 5 minutes or the most it takes is 2 hours,
Password will work 100% or your money back!
---
Dell Bios Password section:

We can generate the right Dell Bios master password to help you reset Bios & HDD passwords on Dell Laptop & Notebook such as Dell: Inspiron, Latitude, Precision, XPS, Vostro, Alienware, G Series, Venue, Optiplex, wyse and Studio.

Supported Dell Laptop models will show codes like: System Disable, Unlock key hint number, Password error code, service tag, Hard-dive serial number, PPID, E7A8, 3A5B, 1F5A, BF97, 6FF1, 1F66, 1D3B, 595B, 2A7B, D35B, A95B.

Choose what kind of Dell Bios Password you need to reset:

| | | |
| --- | --- | --- |
| | | |
| | | |
| | | |
| | | |
| | | |
| | | |
---
Acer Bios Password section:
We offer Bios master password for: Acer Aspire, Acer Spin, Acer Nitro, Acer Swift, Acer Predator, Acer TravelMate, Acer extensa, Acer Ferrary
Choose the type of Acer Bios Password
---
HP Bios Password section:
We offer Bios master password for: HP Pavilion, HP Envy, HP Stream, HP Elitebook, HP Spectre, HP Chromebook, HP Omen
Choose what kind of HP Master Password you need today!
---
Sony Bios Password section:
We offer Bios master password for: All sony Laptop & Notebook with: Enter OneTime Password
Choose what kind of Sony Master Password you need today!
---
Samsung Bios Password section:
We offer Bios master password for: samsung Flash, Samsung Odyssey, Samsung Series 9, Samsung Series 7, Samsung Series 5, Samsung Series 3, All Samsung Netbook, Samsung Notebook Flash, Samsung Expert, Samsung ChromeBook, Samsung Essentials, Samsung Style,
---
Fujitsu Bios Password section:
We offer Bios master password for: Fujitsu 200 Series, Fujitsu 200 Series, Fujitsu 400 Series, Fujitsu 500 Series, Fujitsu 600 Series, Fujitsu A Series, Fujitsu B Series, Fujitsu C Series, Fujitsu Celcius, Fujitsu E Series, Fujitsu i Series, Fujitsu L Series, Fujitsu M Series, Fujitsu Milan, Fujitsu Monte Carlo, Fujitsu Montego, Fujitsu N Series, Fujitsu P Series, Fujitsu Q Series, Fujitsu S Series, Fujitsu T Series, Fujitsu U Series, Fujitsu V Series,
---
What Is BIOS?
BIOS is the acronym of Basic Input/Output System that is a firmware embedded on a small memory chip on the PC's system board or motherboard. BIOS interface is designed for advanced PC users. Change certain settings on BIOS could prevent the PC from starting correctly, prevent the operating system from loading or suffering potential loss of data. To prevent the BIOS settings changed by the other unauthorized person, we can set a security password on BIOS. But if we forgot BIOS password, we can't get into BIOS too.
---
How To Perform a BIOS password Reset and Unlock Bios Setup?
Tip 1:

If you Forgot your BIOS or HDD Password you can reset/remove BIOS password on Dell laptop normally after you received the BIOS Master password from us,
you can press the Keys to get into BIOS settings to change or remove the password easily.

1. Power on your computer, press F2 key several times when Dell logo appears.

2. When get into BIOS settings, locate to Security menu, find Supervisor Password or (Administrator Password), press Enter.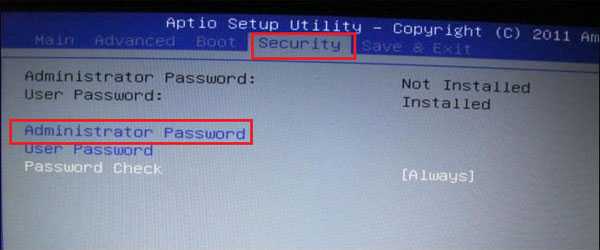 3. When the password text box pops up, enter the Master password in the first field and leave the other two fields empty to reset it, and clear the password.

If you wish to just change the password:

if you want to you can just change the password to something easier to remember,

in that case, on the first field you will enter the master password we sent you, and on the second field and third field you will enter whatever password you like, for instance, if you wish to set the password as 1234 you will Enter:

the master password we sent you in the first field

1234 in the second field

1234 in the third field

then you will hit the F10 Key to exit and save the changes.
---
Disclaimer:
Please Note: We like to think that you are unlocking Bios on your own laptop and that you know how many passwords are set,
Know that Bios Password is used to unlock the motherboard, and hard drive password unlock only hard drives,
Bios & HDD Passwords Are Sold Separately and windows password removal program is also available.
---
Top Related Website's offering Laptop Bios Master Password: